Hiii readers! I have had a bunch of people over social media ask me my skin care routine so I decided that I would put it up on the blog for you! I have done blog posts in the past about my skin, but this routine I have going now I definitely feel the most confident with and it truly has helped my skin! DISCLAIMER….I have done accutane. For those of you who aren't familiar about accutane, (isotretinoin) it is a high intensity acne treatment that works by decreasing facial oil (sebum) production. High amounts of sebum can lead to severe acne (cystic acne.) I tell you that I've used accutane because this does mean that you might not get the same results using this skin care routine that I do. My skin is chemically trained to not break out, therefore this routine DOES NOT treat cystic or severe acne. IF you have any questions about my experience or results with accutane, drop them in the comments below OR message me on Instagram (@sheffieeee)! I would be happy to talk to you about my experience 🙂
However, I do still go through the routine hormonal small breakouts and for this purpose, I have loved this particular skin routine. 🙂 So if you have small routine breakouts that bother you, keep readin' sister!
EVER since I was little, I would see my mom using this line of product and I've been familiar with the products for a long time….I've just never religiously used them until now. Clinique is one of my ALL time favorite skin care lines. The products are pure, light, and dependable.
So, step 1.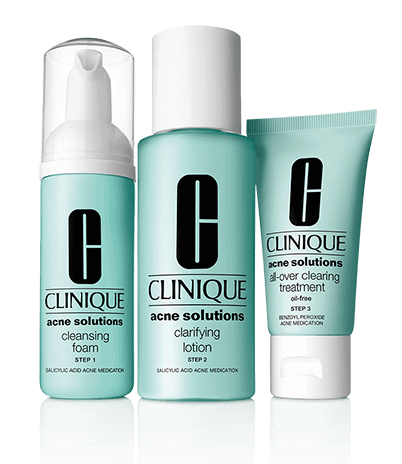 Their 3 step acne solution line. First thing I love about this particular line is that the bottle sizes are manageable. I think the set of 3 is $28 and you don't feel like you have a year's supply that you'll never get through. ANOTHER plus to their size is that they're perfect for if you're not sure if you're going to like the product. They're big enough to get the job done (you only need small amounts) but small enough that you don't feel like you've wasted a ton if you decide this line is not for you.
The line is easy to use with the labels step 1, step 2, and step 3, you follow the order as so. The first step is a cleansing foam that I actually just keep in my shower. A small amount goes a long way and you just work the lather throughout your skin, I even use a little on my neck and chest.
The second step is their clarifying lotion which is best explained as almost the same texture as a toner would be. I shake the product and then use cotton rounds from TARGET to apply it all over my face. I do this BEFORE I start any of my makeup.
The third step is their all-over clearing treatment. The statement that it is "all-over" is accurate and you are able to use as much as you want, but I have found my best results are when I only dab small amounts of this gel to my problem areas. When I've used it all over my face as a lotion I've found it feels a little sticky and my makeup doesn't cohere as well.
After I've used the 3 step system, I continue with Clinique's moisturizing gel, available here.
I put this all over my face and neck before I put my makeup primer on! I even put it on again right before I go to bed to add moisture before I sleep. THIS PRODUCT IS MY FAVORITE. I would label it as a stable item and would recommend it to anyone with any skin type! This product is amazing!
For me, this simple skin routine has really helped manage my routine minor breakouts and has left my skin feeling refreshed and new. I have loved using the Clinique brands and would definitely recommend them! They are available online at Clinique's website, at Nordstrom, Ulta, & Macy's!! I even sometimes have seen Sephora carry their lines. Drop any comments or questions below!